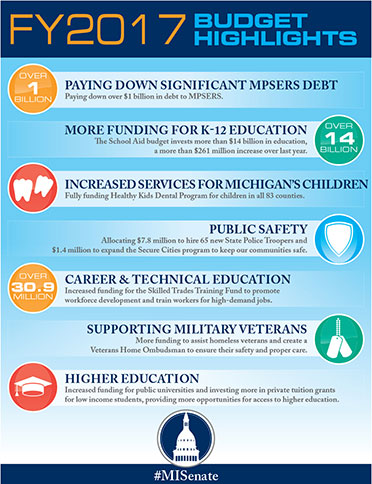 The Legislature recently finished up work on the state budget, and for the sixth consecutive year, we wrapped it up months before the start of the new fiscal year.
The plan reflects the priorities of Michigan families, including quality education for our children and public health and safety, while providing a strong foundation for economic growth. Some of the key investments include:
Increased funding for K-12 and higher education, providing more than $14 billion for education;
Full funding of the Healthy Kids Dental Program to include children in all 83 counties;
Added funds to hire 65 new State Police Troopers;
More funding to assist homeless veterans and create a Veterans Home Ombudsman; and
Increased funding for career and technical education to train workers for high-demand jobs.
At the same time, the budget strengthens the state's finances by paying down over $1 billion in debt and continues our commitment to fiscal responsibility by ensuring government lives within its means.
Click for more information: Senate Bill 801 / House Bill 5294.